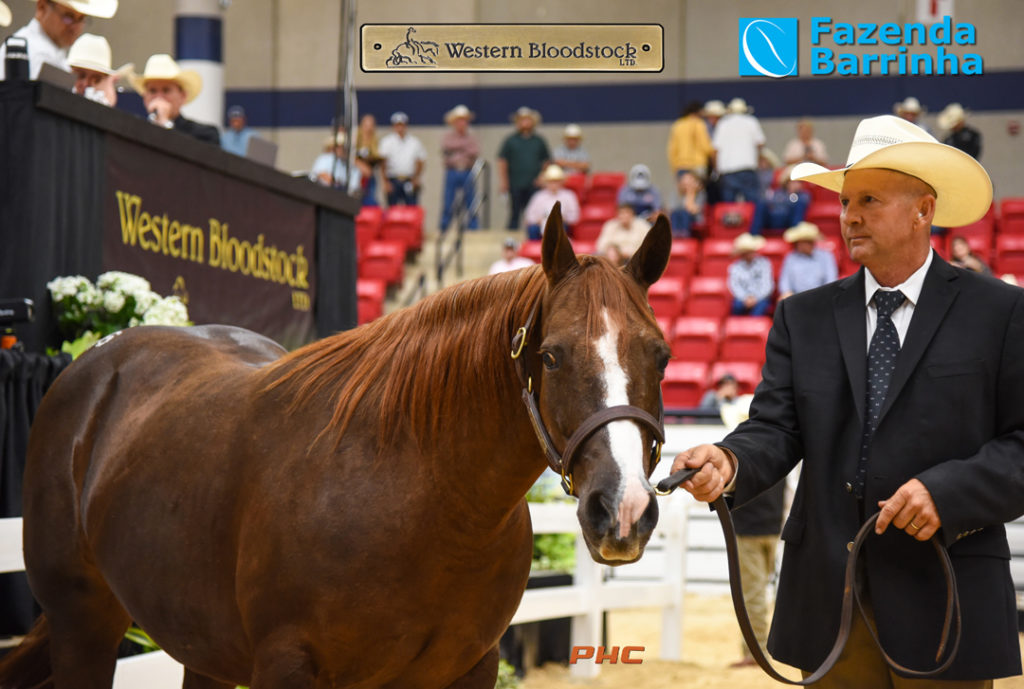 The 2021 Western Bloodstock Cutting Horse Sale, at Will Rogers Memorial Center in Fort Worth, on Friday, July 23 and Saturday, July 24, broke an all-time record for NCHA summertime sales with four horses each selling for over $100,000, and an overall two-day sale average of $21,328.
In addition, 96% of the 112 head were sold on Saturday, including the Fazenda Session which averaged $27,925.
Look The Look (LTE $175,073, by High Brow Cat), from the Fazenda Barrinha Corp Dispersal Special Session, topped Saturday's Sale at $160,000. The 13-year-old broodmare, dam of 2016 NCHA Non-Pro Horse of the Year Watch Me Whip (LTE $182,701, by Playgun), sold to RB Quarter Horses LLC, Dennis, Tex., with an embryo by Reyzin The Cash.
Stylish Whip, also from the Fazenda Session, was the day's second-highest seller at $110,000. Purchased by Glade Knight/Slate River Ranch, Richmond, Va., the yearling Docs Stylish Oak daughter, out of Watch Me Whip (LTE $182,701), is a maternal granddaughter of high-seller Look The Look (LTE $175,073).
Plantation Farms, Denham Springs, La., sold Reyzin Dynamite for $45,000 to Thad York, Saratoga, Wyo. The yearling mare is by Reyzin The Cash out of Dis Cats Dynamite ($109,043), winner of the Idaho CHA Derby and the El Rancho Open Derby.
Double Dove Ranch, Fort Worth, Tex., consigned the day's high-selling stallion, who sold for $40,000 to Teton Ridge Ranch, Weatherford, Tex. The January 10, 2021 colt, with name pending, is a half-brother to Pedel To The Metall (LTE $298,391, by Metallic Cat) and to 2020 NCHA Open Horse of the Year and top Female money earner Twice In Santiago (LTE $276,587, by Once In A Blu Boon), among eight earners of $1,061,084 out of Twice As Reycy (LTE $198,361, by Dual Rey).
On Friday, July 23, Teton Ridge Ranch was the winning bidder on the two top sellers during Friday's Rocking P Ranch Production Sale session of the Mid-Year Sale — Metallic Cincin (2020 colt by Metallic Cat) and Metallic Star Guns (2020 filly by Metallic Cat), at $225,000 and $120,000, respectively. Teton Ridge Ranch had also recently purchased Twice In Santiago at private treaty.
For full sale results from the 2021 Western Bloodstock Cutting Horse Sale visit www.westernbloodstock.com where a full list of consignments will also be available for the Fults Ranch Absolute Reduction Sale, to be held at Fults Ranch, Amarillo, Tex.