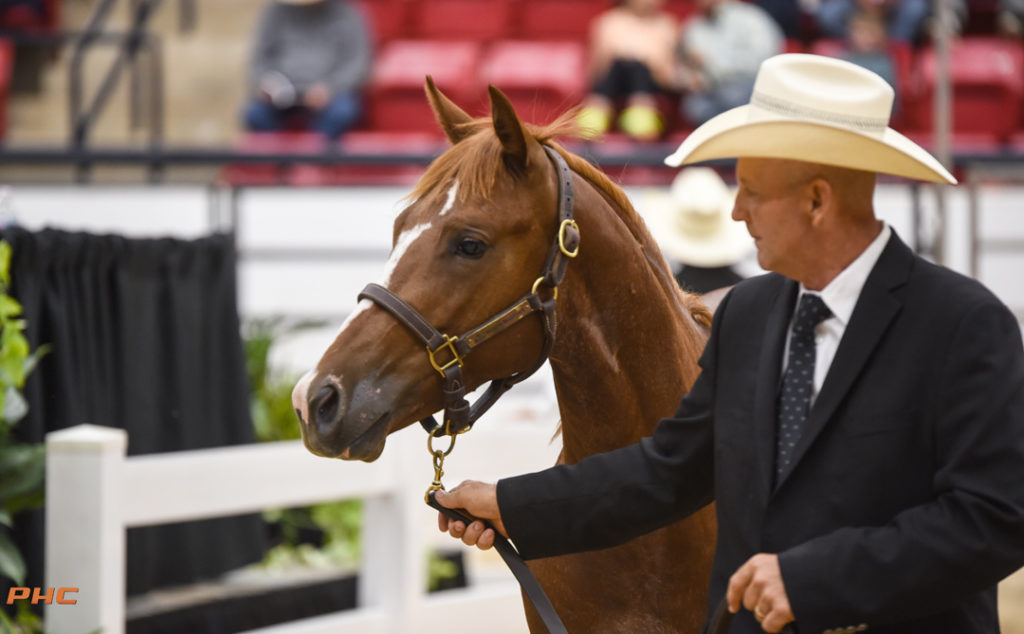 Metallic Cincin, a yearling Metallic Cat stallion, topped the Rocking P Ranch Annual Production Sale for $225,000, on Friday, July 23, the first day of Western Bloodstock's 2021 Mid-Year Cutting Horse Sale in Fort Worth.
A full-brother to Metallic Curveball (LTE $215,151), as well as a half-brother to Cinca Im Hot (LTE $265,969, by Spots Hot), Metallic Cincin sold to Teton Ridge Ranch, Weatherford, Tex. His dam, Cinca De Maya (LTE $107,750, by Dual Rey), has produced NCHA earners of $574,193, with average earnings of $71,774. Cinca De Maya is out of NCHA Open Futurity champion Highbrow Supercat (LTE $366,230), a leading producer of the earners of $1,569,915.
Metallic Star Guns, by Metallic Cat, was the second-highest seller at $120,000. The red roan yearling filly, also purchased by Teton Ridge Ranch, is out of the Playgun daughter Playguns Star (LTE $116,517), dam of 13 NCHA earners of $391,197.
Teton Ridge Ranch, owned by businessman Thomas Tull, a newcomer to the cutting industry, according to a July 22 article posted by Molly Montag in the Quarter Horse News, recently announced the purchase of 2020 NCHA Futurity Open and Female champion All Spice (LTE $344,397, by Once In A Blu Boon), as well as the 5-year-old Once In A Blu Boon daughter Twice In Santiago (LTE $276,587) , NCHA 2020 Horse of the Year, and Smooth Talkin Style (LTE $305,284, by Smooth As A Cat), leading 2020 NCHA freshman sire and 2015 NCHA Horse of the Year.
Metallic Cincin and Metallic Star Guns were among 26, from a listing of 30, Rocking P Ranch yearlings that sold for a total of $773,000, with an average of $29,731. Rocking P Ranch, title sponsor of the 2021 NCHA Futurity, is owned by Bobby Patton, Fort Worth, Tex., and is the home of leading NCHA and NRCHA sire Metallic Cat (LTE $637,711), the sire of earners of over $44 million, as well as home of Spots Hot (LTE $527,682), sire of the earners of $6.7 million.
All weanlings, yearlings, 2-year-olds and 3 year-olds sold and transferred to their new buyers during the 2021 Western Bloodstock Sales will automatically be nominated for the newly launched Ben Emison – Milt Bradford Western Bloodstock $100,000 Incentive, to be paid to the three highest-advancing nominated horses in the NCHA Open Futurity.
The 2021 Mid-Year Cutting Horse Sale continues through Saturday, July 24. For catalog and results go to www.westernbloodstock.com