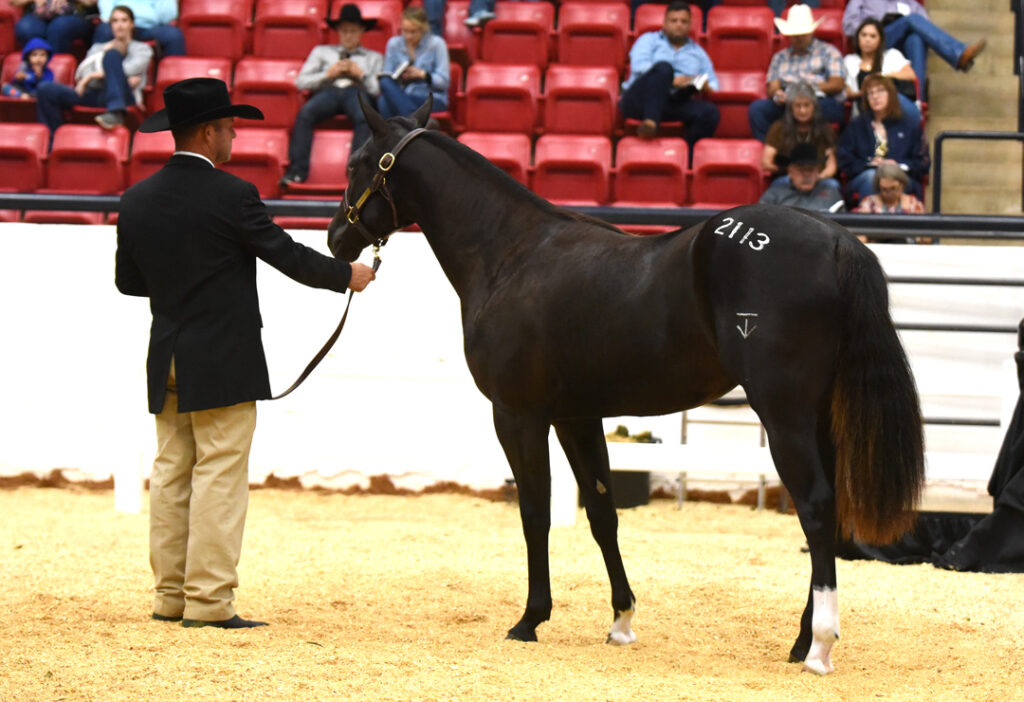 Black Magic Woman, consigned by Southern Ranches, topped the NRCHA Snaffle Bit Futurity Sales at $180,000. She sold to Chance David.
The two-day 2023 Western Bloodstock NCHA Snaffle Bit Futurity Sales concluded on Saturday, October 21st with record sales. Twelve horses sold for $100,000 or more with 16 horses bringing $95,000 or more.
Saturday's Select Yearling Sale Session II posted an average of $34,897 while Friday's Performance Horse and 2-Year Old Session claimed an all-time high average of $51,153. The over-all average for all sessions was $32,855.
Black Magic Woman, consigned by Southern Ranches (Solo Select Horses, Agent), was the sale's over-all high-seller. Purchased for $180,000 by Chance David, Joaquin, Tex., the 2022 black Shining Spark daughter is out of Carrera Cat, by Metallic Cat, the dam of Holly Cat Carrera LTE $56,835, a multiple champion in RCHA Open competition, and a full sister to The Countess LTE $79,000, a NCHA Super Stakes Open finalist.
Southern Ranches was also the consigner of Shiny Train, a red roan Metallic Cat yearling filly who brought $97,000 from Gina Roidopoulos, Dallas, Tex.
The House Is Rockn, a 2022 red roan colt by Stevie Rey Von commanded $140,000, the sale's second-highest price. Consigned by Teton Ridge, The House Is Rockn sold to Eduardo Elizondo, Laredo, Tex., who also purchased the sale's high-selling broodmare, Call Her Hilda 17, for $110,000 on Friday.
The House Is Rockn is out of Soula Jule Forever LTE $34,751, a multiple Open NRCHA and RCHA champion and the dam of 14 money earners, including NRCHA Futurity Open Reserve champions Jule Smart Rey and Bet Hes Black.
High Cats Shine at $125,000 was Saturday's third-highest seller. Consigned by Wagonhound Land & Livestock LLC and purchased by William McElligott, Lafayette, La, the sorrel yearling filly by WR This Cats Smart is a full sister, out of Shining Madonna, to 4-year-old Cabanna Boy LTE $126,370, NRCHA Western Open Derby and NSHA RCH Open Futurity champion.
On Friday, Wagonhound Land & Livestock LLC was also consignor of the WR This Cats Smart yearling son Melodys Smart Rey, purchased by Lita West for $105,000, that day's second-highest price.
Saturday's Chappell-White Partnership Absolute Dispersal Sale Session realized $100,000 for Sporty Metallic 18. The bay roan Metallic Cat daughter sold, with an embryo by Shiners Voodoo Dr, to Michael Cannon, Las Vegas, Nev.
Jeffrey and Jennifer Foland, as well as Aledo Horses, LLC, and Kalpowar Quarter Horses also received $100,000 for consignments on Saturday. Texas Reynger, a 2022 AQHA/APHA chestnut Dual Rey son consigned by the Folands, out of their High Brow Cat daughter Hissy Cat LTE $314,699, a leading dam of earners of over $1.7 million, sold to Florence Nix, Colbert, Calif.
She Be Magistic, consigned by Aledo Horses LLC, was purchased by Rocking BS Ranch, Las Vegas, Nev. The yearling Woody Be Tuff daughter is out of Magistic Moon LTE $187,799, whose dam, Sweet Abra LTE $120,151, is a leading dam 25 earners of more than $2.5 million, including NCHA Open Horse of the Year Metallic Rebel LTE $438,315.
Rebels Playmate , a yearling Metallic Rebel son purchased by Nicholas Dowers, Dyer, Nev., was consigned by Kalpowar Quarter Horses. The red roan colt is out of Starlight Playmate LTE $25,762, the dam of 8 money earners, including Shes A Smooth Diva LTE 41,841 and Playin It Smooth LTE $36,198.
For complete results from the 2023 NRCHA Snaffle Bit Futurity and for information on upcoming sales, including the 2023 Western Bloodstock NCHA Futurity Sales, go to westernbloodstock.com.