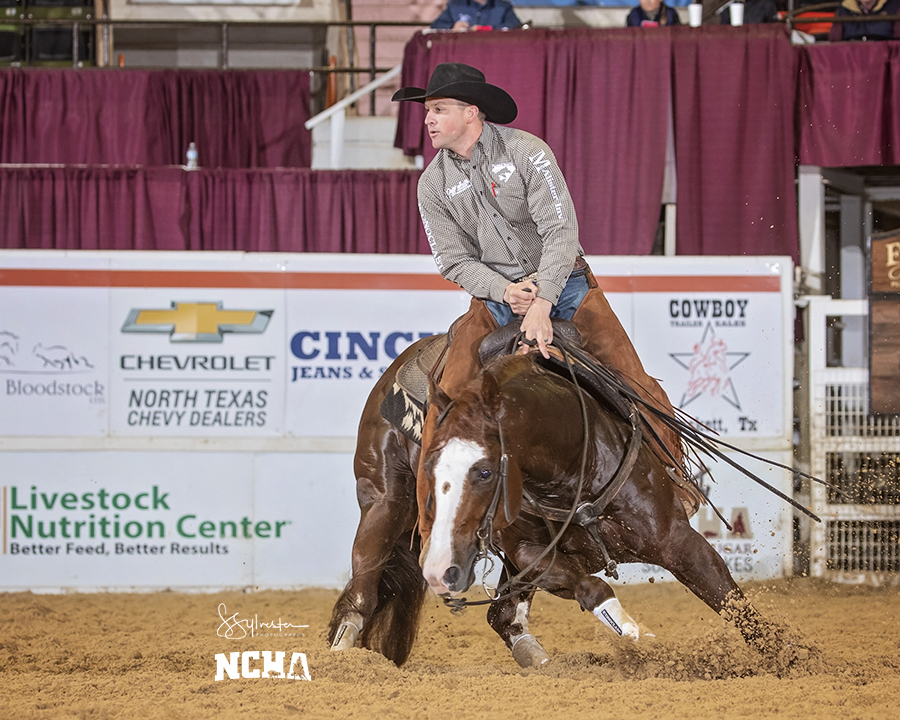 Catolena Cashin In, ridden by Tarin Rice for Joel Colgrove of Boligee, Ala., scored 230 to win the Kit Kat Sugar NCHA Super Stakes 4-Year-Old Open in Fort Worth on Saturday, April 17. It was the 40th edition of the second leg of the NCHA Triple Crown, which had been interrupted last year by Covid-19. The winning score was the second highest in Super Stakes history, with Rice tying his father, Boyd's mark in 2009 on Third Cutting. Sunettes Dually established the record of 231 in 2001 with Matt Gaines.
Tarin Rice, the NCHA Hall of Fame earner of $2,664,335, has now won each of the Triple Crown events. He won the NCHA Futurity in 2012 on He Bea Cat, and the NCHA Derby in 2014 on Miss Callie Cat.
Catolena Cashin In's win was worth $59,944. Morgan Cromer and Beau Galyean split the reserve championship of the 2021 Super Stakes with 224.5 points on Just U N Me Baby and Sueper Hot, respectively. They each received $49,008.
Catolena Cashin In LTE $143,784 and Rice placed in the finals of the NCHA Futurity (16th) and the 2021 Abilene Spectacular (9th), and went on to win the Ike Derby with 226.5 points and to claim the Arbuckle Mountain Derby reserve championship with 227.5 points.
Bred by Joel Colgrove, Catolena Cashin In is out of Dual Catolena LTE $37,917, a full sister to Cats Dual Olena LTE $97,174, among earners of $367,852 out of DPS Lenas Lucinda LTE $70,987, by Dual Pep. Dual Catolena has also produced Catn Bluez LTE $24,096 and Catolena Express LTE $19,752.
Colgrove, who won the Unlimited Amateur championship at the the 2014 NCHA Futurity on One Catty Cupid, has also owned major event Open champions Sweet Baby Marie (Southern Futurity and Idaho Futurity) and One Catty Cupid (Cotton Stakes). His granddaughters, Madalyn and Blakley, have won a combined nine major titles showing his horses.
Just U N Me Baby LTE $104,437, is bred and owned by Bobbie Kay Davis of Templeton, Cal., by Metallic Cat out of Wood U N Me Baby LTE $179,292, a full sister to Woodys Baby LTE $405,332. Davis showed Just U N Me Baby as the Amateur reserve champion of the NCHA Futurity.
Morgan Cromer, the NCHA Hall of Fame earner of $3,636,731, won the NCHA Super Stakes Classic in 2016 on Maid Of Metal. She's a four-time champion of the Pacific Coast Futurity, on Bearly Nuf Taz (2008), Faye Reys Sis (2011), Chickaroos Firefox (2014), and Moon Cat CD (2017).
Cromer also showed Catty Look and Catalic in the 5-year-old Super Stakes Finals, and Hotty Mc Hotty in the 6/7-year-old division.
Sueper Hot LTE $106,819 is bred and owned by Dotte St. Clair Hill of Glen Rose, Tex. by Hottish out of Sueper Kitty LTE $123,311, a daughter of $1.5 million producer Meradas Little Sue. Sueper Kitty placed third in the NCHA Futurity, ridden by R.L. Chartier for Gary and Karen Fields, in 2014, the year that Hill's mare Classy CD Cat won with Phil Hanson.
Sueper Hot, who also earned $6,148 as the champion gelding, placed 10th in the NCHA Futurity with Galyean on his way to the finals of the Abilene Spectacular and Arbuckle Mountain Futurity.
Beau Galyean is the NCHA Hall of Fame earner of $4,606,062. He won the 2008 NCHA Futurity on Metallic Cat, and he's notched up a record three NCHA Super Stakes Classic championships, on Metallic Rebel (2017), Stevie Rey Von (2018) and Rollz Royce (2019).