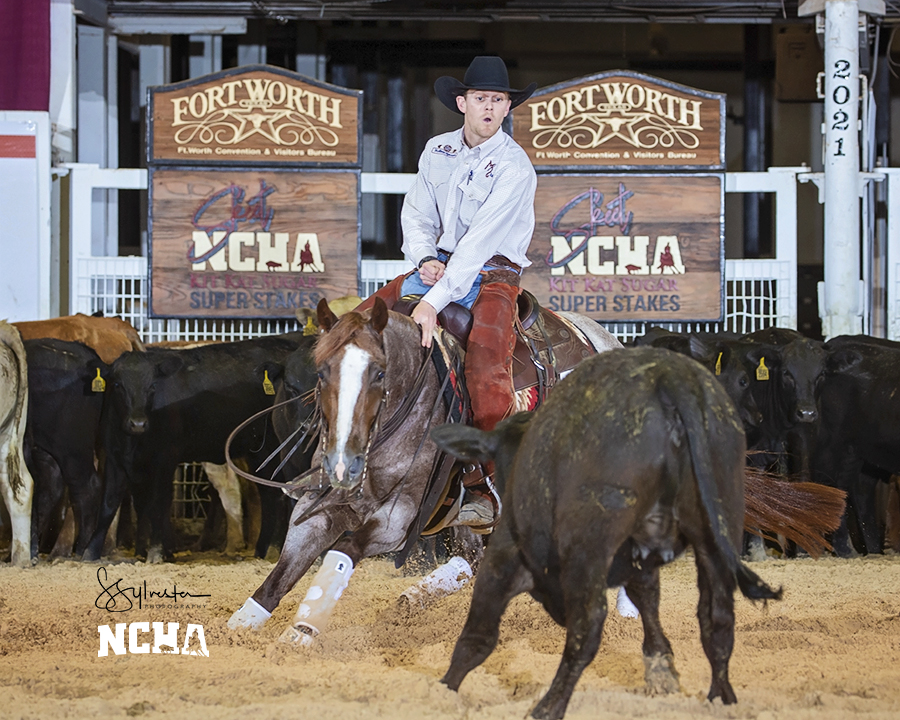 Christian Miller scored 222 points to win the NCHA Kit Kat Sugar Super Stakes 4-Year-Old Open Intermediate Finals and $13,174 on Wednesday, March 31, riding the Sannman gelding Smart Lookin Sannman LTE $71,466, for Ted and Nancy Turner, Bushnell, Fla. Kody Porterfield claimed reserve and $12,066 with 219.5 points aboard Lucid Cat LTE $2,755, by Metallic Cat, for Stanford Ranch Performance Horses, Verhalen, Tex., while Tate Bennett placed third in the 23-horse field, with 219 points to earn $10,958 aboard his own horse, Specialkat LTE $3,913, by Kit Kat Sugar.
Earlier this year, Smart Lookin Sannman and Christian Miller won the Abilene Spectacular Open championship, as well as the Cattlemen's Intermediate Open, and placed in the Arbuckle Mountain Open and Open Limited. Smart Lookin Sannman was bred by John McCarthy, Dade City, Fla., Smart Lookin Sannman is the first money earner out of Didges Smart Kitty LTE $111,145, by WR This Cats Smart.
Miller, the NCHA earner of $347,705, placed in the finals of the 2018 and 2019 NCHA Super Stakes Open Limited, showing SDP Hy Jane LTE $22,571, by Hydrive Cat, and SDP Ruby Tuesday LTE $21,036, by Dual Rey, respectively.
Kody Porterfield and Lucid Cat, bred by Kelly Mahler, Olney, Tex., have been 2021 finalists in the Open Limited Ike Hamilton Derby and the Cattlemen's Derby, and earned a check in the Cattlemen's Open Intermediate Novice division, as well. They also qualified for the Super Stakes 4-Year-Old Open Semi-Finals with 439 points, one of the top combined go-round scores.
Porterfield, the NCHA earner of $357,304, placed in the 2016 NCHA Super Stakes Open Limited showing Catjumpedoverthird LTE $24,921, by Third Cutting.
Tate Bennett and Specialkat, bred by Robert Tipton, Tecumseh, Okla., were Open Limited finalists in the 2020 NCHA Futurity. Bennett, the NCHA earner of $1,019,476, won the 2011 NCHA Super Stakes Open Limited and the 2012 Super Stakes Classic Open Limited riding Reyn Maker LTE $169,801, by Dual Rey. Bennett has also been a Super Stakes Open finalist five times and an Open Classic finalist three times.
Hayden Upton and Looks Like Foxie score 221-point win in 5-Year-Old Open Intermediate
Hayden Upton, showing the Dual Smart Rey daughter Looks Like Foxie LTE $42,971 for Marcos Chocron-Arocha, Weatherford, Tex., scored 221 points in the 14-horse 5-Year-Old Open Intermediate finals to win the championship and $9,192. Terry Clifford was reserve champion with 215 points and earned $8,459 on the Boon Too Soon daughter Cattahoochie Sue, owned by Monte Strusiner, Northbrook, Ill., while third place and $7,727 went to Redtail Ranch Performance Horses, Star, Idaho, owners of RTR Reasontobelieve LTE $25,417, by Moms Stilish Cat, shown by Dax Hadlock with a score of 214.5 points.
Looks Like Foxie and her owner Marcos Chocron-Arocha claimed the PCCHA 4-Year-Old Amateur reserve championship last year, as well as the Southern Amateur and Southern Intermediate Amateur, and the Ike Hamilton Intermediate Amateur. They also won the West Texas Futurity Amateur Limited.
Earlier this year, Upton showed Looks Like Foxie to place sixth in the Bonanza 5/6 Open Intermediate. The NCHA earner of $375,341, Upton won the 2017 NCHA Super Stakes Classic Open Limited on Superfly LTE $LTE $144,986, by Smooth As A Cat, and was a finalist in the 2018 Open Super Stakes on Kit Kat Sugar Daddy LTE $56,016, by Kit Kat Sugar.
While this was the first limited age event finals for Rose Valley Ranch bred Cattahoochie Sue, Terry Clifford, the NCHA earner of $754,990, has been a Super Stakes finalist three times. He placed fourth in the Classic Open Limited on the Third Cutting son Third Rey LTE $7,594, also owned by Strusiner; was third in the 1997 Open Classic on Lectric Playboy LTE $141,719, by Freckles Playboy; and placed 17th in the 4-Year-Old Open in 1999, riding Travalin Sugar Ray LTE $51,601, by Travalena.
Dax Hadlock and 5-year-old RTR Reasontobelieve were finalists last year in the Idaho Futurity Intermediate Open. This was the first Super Stakes finals for Hadlock, but the NCHA earner of $208,138 has been a consistent finalist and many-times champion in Western States limited age events, with his richest single win as Open 4-Year-Old champion of the 2018 Calgary Futurity on This Cats Lethal LTE $74,133, by WR This Cats Smart.
The 2021 NCHA Kit Kat Sugar Super Stakes continues through Saturday, April 17.