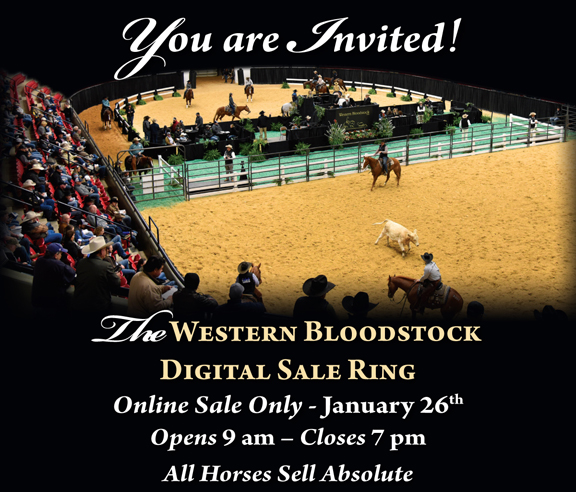 On Wednesday, January 26, 2022, Western Bloodstock will hold a special "Online Only Sale" of seven 3-year-old prospects. The bidding opens at 9:00 a.m. (Central Time) and closes at 7:00 p.m. All horses will sell absolute (with no reserve) to the highest bidder.
"They are all prospects that have a lot of future ahead of them and can fit multiple events," said Western Bloodstock's Jeremy Barwick. "I wanted a very simple process where the buyers either wire or overnight a check from a U.S. bank to Western Bloodstock by the next business day, then they have 10 days to pick the horse up."
The offering of six fillies and one gelding includes Rebel Rouser Rose, a red roan filly by Metallic Rebel, whose first foals are 4-year-olds this year. Metallic Rebel's 2019 daughter Spanish Nights, consigned by Russ and Janet Westfall, was the high-seller, at $600,000, from the 2021 NCHA Futurity 2-Year-Old Sale Session II.
Metallic Rebel was second, with 2021 NCHA Futurity offspring sales of $3,371,500, only to his sire Metallic Cat, whose offspring topped the sales.
Metallic Cat, cutting's all-time leading sire, was the leading sire of the 2021 Futurity Sales with offspring sales of $4,409,000, including his 2019 red roan daughter Little Sisters Kitty, for $500,000 during Session I of the 2-Year-Old Sale, and his 2019 bay colt Soulreyn, for $500,000 during Session II of the 2-Year-Old Sale.
The Metallic Cat daughter Metallitime, a red roan in training with Eric Magby, is also being offered in the January 26 Sale. Her red roan full-brother, Metallic Ruano, sold to Teton Ridge for $210,000, in Session I of the Futurity 2-Year-Old Sale. Metallitime and Metallic Ruano are half-siblings to Super Stakes champion Reys Desire LTE $409,603.
The 2021 NCHA Futurity Sale also proved epic for the Metallic Cat son Hashtags, whose first foals are eligible to compete in 2022 and whose offspring realized sales of $2,103,000, by far the highest total for any sire whose first crop has not yet been shown. His four fillies and one gelding being offered on January 26th include a half-sister to Fort Worth Pipeline LTE $165,048, who was an AQHA World Champion Junior Cutting Horse, an NCHA Open champion, and is the dam of NCHA champions.
For terms and conditions and information on how to register for the sale, go to westernbloodstock.com, where full pedigrees (with trainers' phone numbers), along with videos, and a veterinary report and repository link will also be found.